This Family Friday we would like to feature one of our newest families. We are so happy the Dodd/Gajdos family has chosen to be a part of the MNCS Family!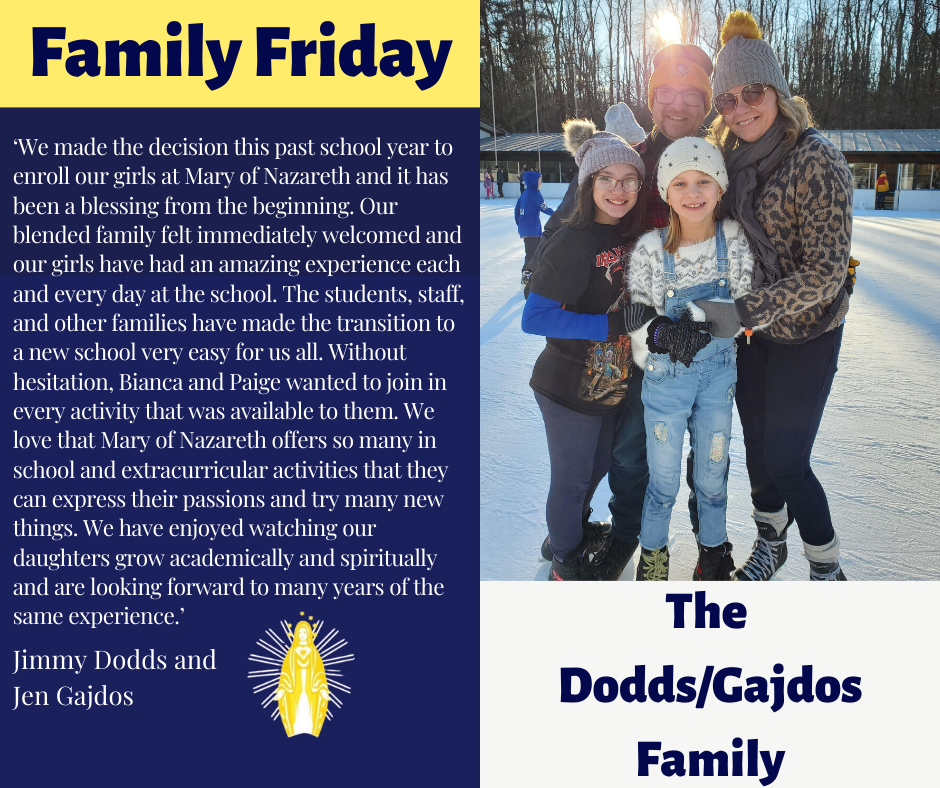 Cornhole Just a reminder: The Cornhole Tournament is next Saturday at MNCS. If you haven't submitted your registration form and fee, you have until Monday. If you need information or have questions, please contact Amy -
asullivan@maryofnazarethschool.org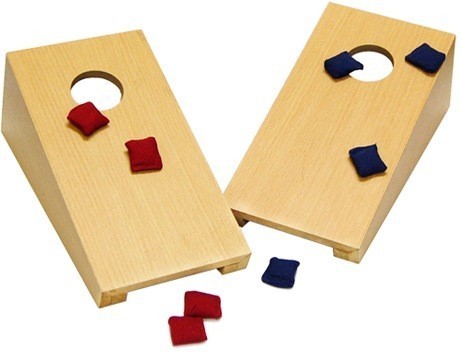 The Sacrament of Reconciliation for students in grades 3-8 will take place on Monday, March 30 beginning at 12:30 p.m.

WAY TO GO VARSITY BOYS The Varsity Boys basketball team put muscle into their hustle last night with a sweet victory over their opponent. The team worked like a well oiled machine and led the game from the first shot, a three pointer, and they never looked back. Congratulations to the entire team and especially to the coaches who have worked so hard to get them to playoff level. You make me proud.

Pictured on top of our growing mountain of shoes is some of our 6th grade students. They worked today banding pairs together and putting 25 pairs in each bag. Please continue to spread the word and send in your new or gently worn shoes. Shoe drive ends March 15, 2020.

From coaching to organizing events and everything in between, Mr. and Mrs. Winters have been devoted to our Mary of Nazareth Catholic School Family. Here is Family Friday featuring the Winters Family.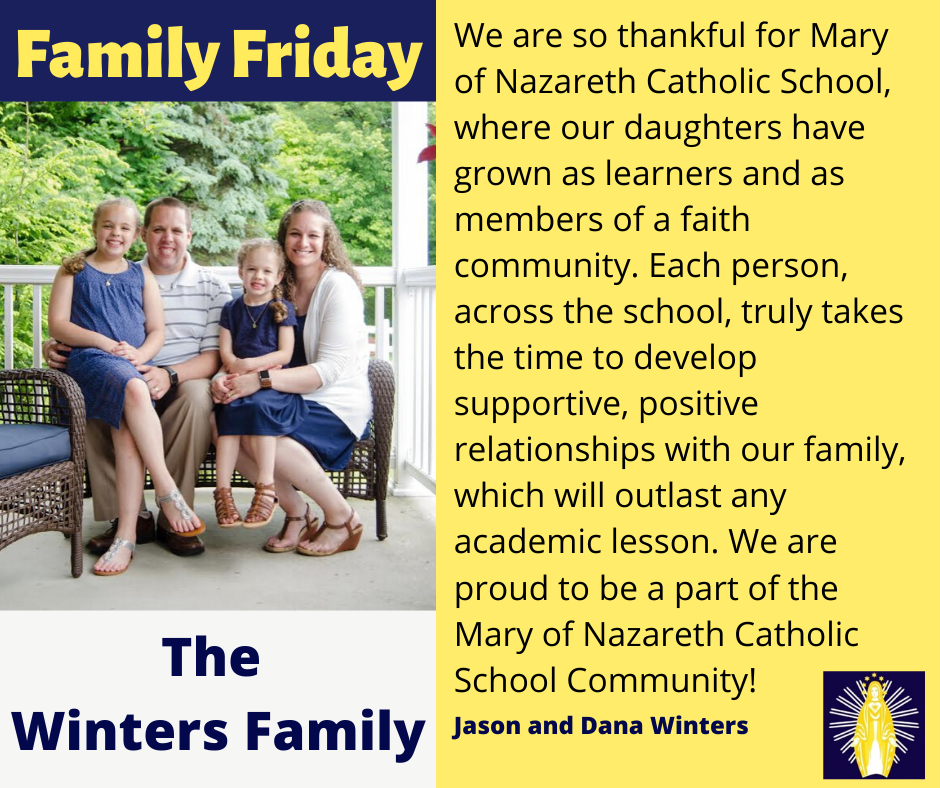 GOOD LUCK JV GIRLS BASKETBALL!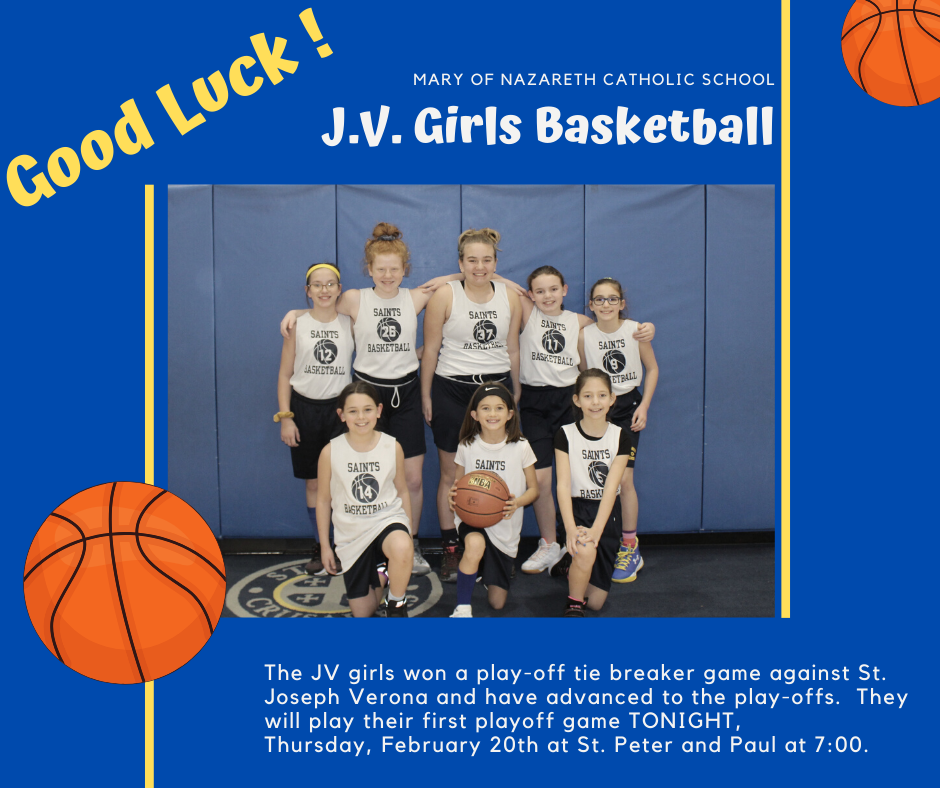 Girl Scout Cookie Pick Up If you ordered Girl Scout cookies, the cookie pick up is tomorrow from 4:00-7:00 p.m. in the back foyer by the gym.

Reminder Tomorrow, February 17, 2020 is a snow make up day. Everyone should report to school as usual.

Eighth grade recognition is Sunday, February 16th at 2:00 PM at Serra Catholic before our boys compete against Madonna Regional. Congratulations and best wishes to these amazing young men as they begin their transition to high school.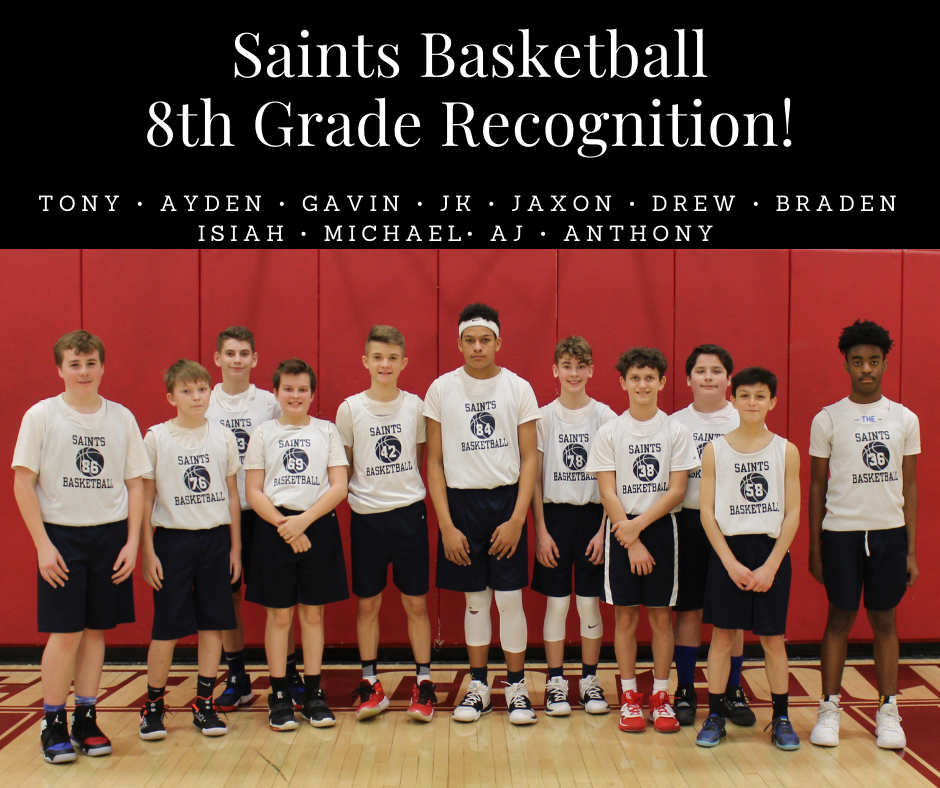 Today's "Family Friday" is the Kucich Family. We are so grateful for all they do for all school family! Here is what they have to say about Mary of Nazareth Catholic School.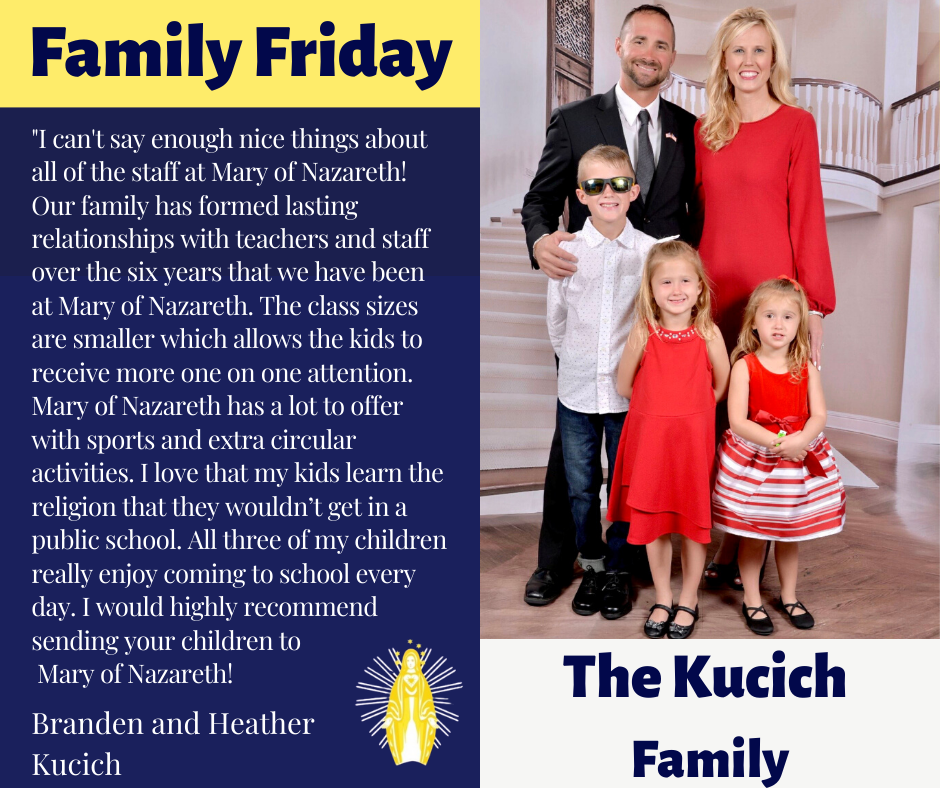 Valentine's Day We want to thank all the Valentine Party parents who came today to create wonderful Valentine memories with the students. Everyone enjoyed the day.

Tomorrow, February 13, we will celebrate Valentine's Day. Students and faculty will have a dress down day. Please dress down appropriately.

Fourth through Eight Grade competed in a preliminary competition in the classroom. The two students that got the most correct out of 7 rounds in the class competed in the school bee. Congratulations!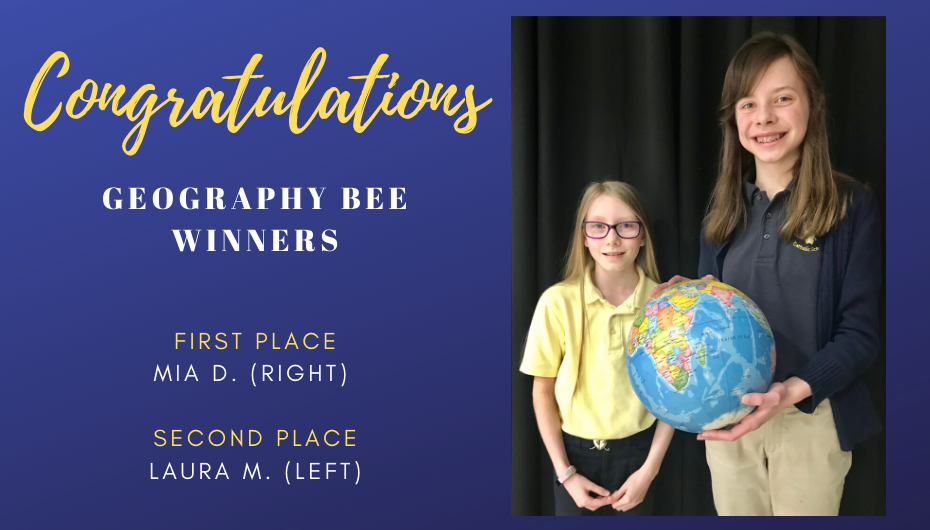 Snow Make Up Day, February 17, 2020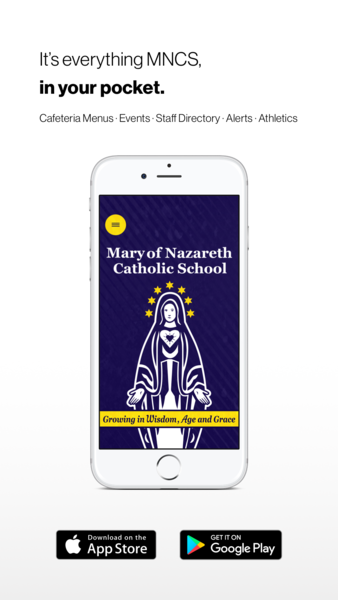 It's Family Friday with the Zapata Family. We are so thankful for all they do and that they chose our school family!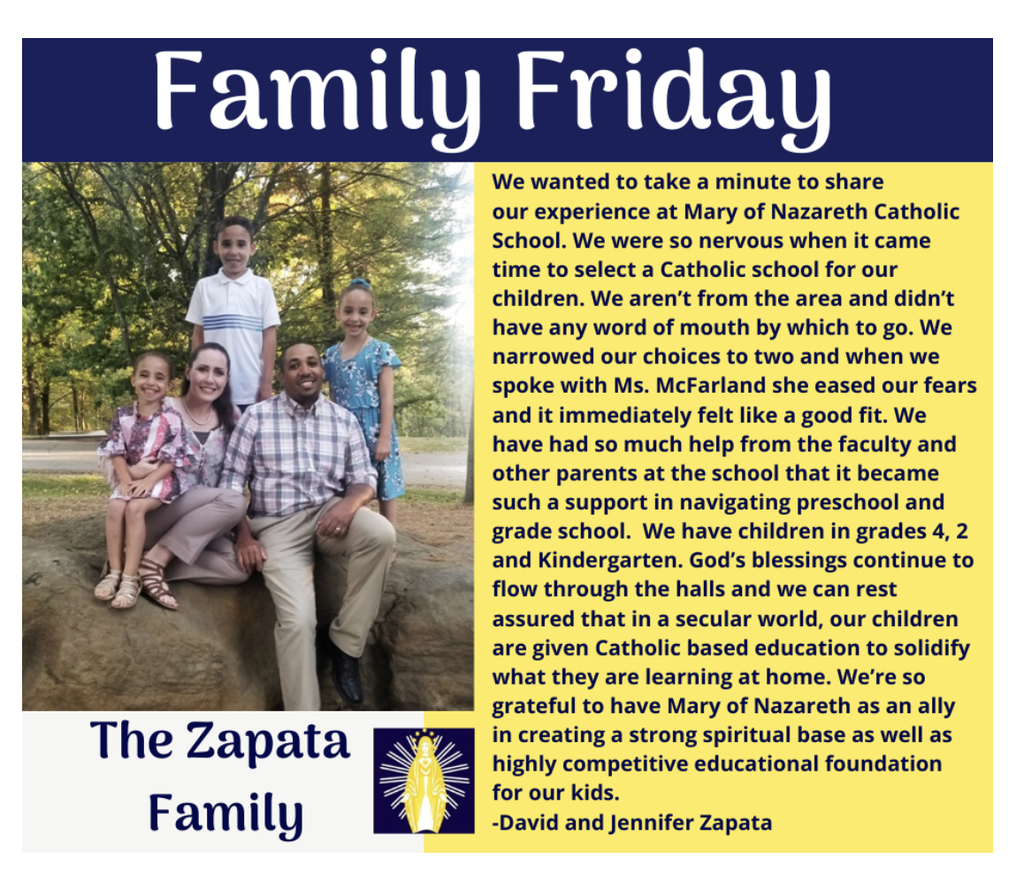 Mary of Nazareth School is now closed for Friday, February 7, 2020. Have a great weekend and be safe.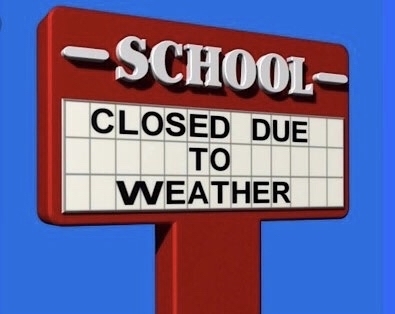 Today, February 7, there will be a two hour delay for all staff and students. Everyone should report to school at 10:15 this morning. Be safe.